Today BirdLife International reported a large number of dead migratory birds found near the water treatment plant in Sharm el Sheikh, Egypt. Locals found 27 Lesser Spotted Eagles and over 30 White Storks dead around the ponds.
We visited these ponds in October 2007. This area of the Sinai Peninsula is a major stopover spot for migratory birds, and during the fall thousands of White Storks pass through this part of Egypt during their journey south.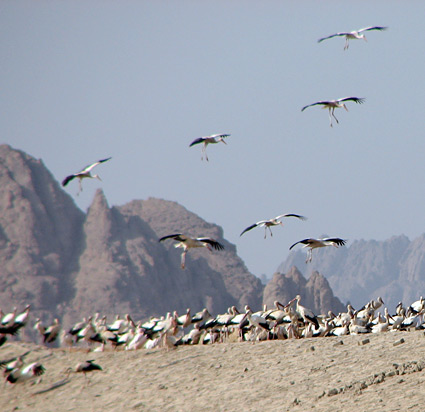 We saw hundreds of storks flying towards the ponds from the mountains. As we walked around the ponds looking for other birds we noticed a lot of dead storks. Our Egyptian taxi driver, who accompanied us on our walk around the ponds (as ordered by the local police), was very interested in the dead storks and thought we should be, too. He made sure to point out each stork corpse to us so we wouldn't miss seeing any. Nice. Anyway, it did seem like there were a lot of dead storks but we assumed they died of exhaustion from their long journey and did not consider anything was amiss. I don't think we saw anywhere near 30 and we didn't see any other dead species, either.
Read the whole BirdLife story here and check out Arthur's Sharm sewage ponds mini-trip report here.